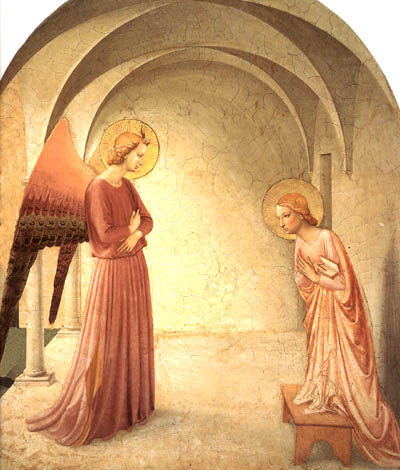 Today, Christians throughout the world observe the Fourth Sunday of Advent, in which Western churches light the fourth and last Advent candle in symbolic preparation for the birth of the Lord. In today's Gospel (Luke 1:26-38) the angel Gabriel appears to Mary and tells her that it is God's wish that she bear the Messiah. It is such a well-known passage that there would be no need for me to fully quote it, but I don't want to miss the opportunity to further spread this wonderful Word of God (in the classic King James version):


And in the sixth month the angel Gabriel was sent from God unto a city of Galilee, named Nazareth, To a virgin espoused to a man whose name was Joseph, of the house of David; and the virgin's name was Mary.
And the angel came in unto her, and said, Hail, thou that art highly favoured, the Lord is with thee: blessed art thou among women.
And when she saw him, she was troubled at his saying, and cast in her mind what manner of salutation this should be.
And the angel said unto her, Fear not, Mary: for thou hast found favour with God.
And, behold, thou shalt conceive in thy womb, and bring forth a son, and shalt call his name JESUS.
He shall be great, and shall be called the Son of the Highest: and the Lord God shall give unto him the throne of his father David: And he shall reign over the house of Jacob for ever; and of his kingdom there shall be no end.
Then said Mary unto the angel, How shall this be, seeing I know not a man?
And the angel answered and said unto her, The Holy Ghost shall come upon thee, and the power of the Highest shall overshadow thee: therefore also that holy thing which shall be born of thee shall be called the Son of God.
And, behold, thy cousin Elisabeth, she hath also conceived a son in her old age: and this is the sixth month with her, who was called barren.
For with God nothing shall be impossible.
And Mary said, Behold the handmaid of the Lord; be it unto me according to thy word. And the angel departed from her.
I have hardly ever read/heard such a marvelous story. I have no adequate words to express my admiration and gratitude to the Lord, nor do I think there are any. Perhaps only music can be equal to the task, and that's why I'll call upon music to "speak" …
In the video the splendid and famous "Ave Maria" by Charles Gounod (based from Johann Sebastian Bach's prelude #1 in C major) performed by Deanna Durbin and the Vienna Boys Choir (Wiener Sängerknaben). This touching performance—from the movie
Mad About Music
—was filmed in the fall of 1937, when Durbin was 15-year-old. A piece of history in itself.
Recommend this post on Google!