2009 is the 400th anniversary of Galileo Galilei's first observations at the telescope, and will be celebrated all over the world as the
International Year of Astronomy
(IYA). The two-day official launch of IYA are taking place in Paris (January 15-16), but Tuscany will play
a very special role
in the yearlong initiative, as the birthplace and home of the great physicist, mathematician, astronomer, and philosopher who is considered the father of modern observational astronomy, or simply the father of modern science.
In fact, as part of the celebrations, a new museum will be opened in Tuscany, where guided observations of the night sky and three exhibitions, part of 12-million-euro "Galileo Package," will be also held. But the biggest show of the year will be a multimedia event at Florence's Palazzo Strozzi, starting from March, entitled "Galileo: Images of the Universe from Antiquity to the Telescope."
It's curious that even Pope Benedict
gives the impression
of being well prepared for this appointment. "The great Galileo said that God wrote the book of nature—he said in his h
omily for the feast of the Epiphany
—in the form of the language of mathematics. He was convinced that God has given us two books: the book of Sacred Scripture and the book of nature. And the language of nature – this was his conviction – is mathematics, so it is a language of God, a language of the Creator."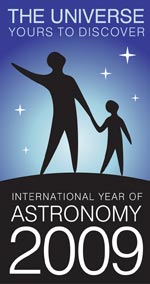 Well, the days of the controversy between the Catholic Church and the Tuscan astronomer about heliocentrism are long over. Who does not remember when, back in 1992, Pope John Paul II expressed "regret" for how the Galileo affair was handled at the time, and officially conceded that the Earth was not stationary? But it is also worth recalling that all traces of official opposition to heliocentrism by the Church disappeared in 1835 when these works were finally dropped from the "Index of prohibited books."
Yet, in a speech delivered at the Sapienza University of Rome on February 15, 1990, the then Cardinal Joseph Ratzinger quoted a statement by the famous philosopher of science Paul Feyerabend: "The Church at the time of Galileo kept much more closely to reason than did Galileo himself, and she took into consideration the ethical and social consequences of Galileo's teaching too. Her verdict against Galileo was rational and just and the revision of this verdict can be justified only on the grounds of what is politically opportune."
Once again, the truth seem to lie in the middle, despite all extremist philosophical and cultural views, as even secularist and atheist Beltolt Brecht guessed in his famous play
Life of Galileo
. That's why it is to be hoped that celebrations won't be transformed into the umpteenth occasion for a confrontation between secularists and their religious counterparts.