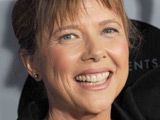 Annette Bening, the American Beauty star, disagrees with Palin's political views. In fact she is a supporter of Barack Obama. Nevertheless she told Fox News that Republican vice presidential candidate deserves respect:


We really want to hear her views ... She's obviously a very accomplished woman. I'm a Democrat, I'm a supporter of Barack Obama but she certainly deserves our respect.
Let this be a lesson to many other Obama supporters, especially in the media. (Via
Camillo
)
Recommend this post on Google!