"
And how do you like Florence? Why, well. It is pleasant to see how affectionately all the artists who have resided here a little while speak of getting home to Florence. And I found at once that we live here with much more comfort than in Rome or Naples. Good streets, industrious population, spacious well furnished lodgings, elegant and cheap Caffées, the cathedral & the Campanile, the splendid galleries and no beggars—make this city the favorite of strangers.
How like an archangel's tent is the great Cathedral of many-coloured marble set down in the midst of the city and by its side its wondrous campanile! I took a hasty glance at the gates of Baptistery which Angelo said ought to be the gates of paradise "degne chiudere il Paradiso" and then of his own David & hasted to the Tribune & to the Pitti Palace. I saw the statue that enchants the world. And truly the Venus deserves to be visited from far. It is not adequately represented by the plaster casts as the Apollo & the Laocoon are. I must go again & see the statue. Then I went round this cabinet & gallery & galleries till I was well night "dazzled & drunk with this beauty." I think no man has an idea of the powers of painting until he has come hither. Why should painters study at Rome? Here, here."
***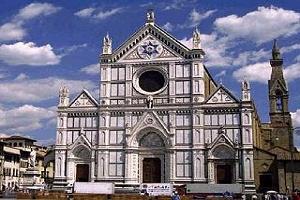 "
When I walk up the piazza of Santa Croce I feel as if it were not a Florentine nor an European church but a church built by & for the human race.
I feel equally at home within its walls as the Grand duke, so
hospitably
sound to me the names of its mighty dead.

*

Buonarroti & Galileo lived for us all. As Don Ferrante says

*

*

of Aristote, 'non è né antico né moderno; è il filosofo, senza più.' "
—Ralph Waldo Emerson [from his journals, May 1 /18 1833], in EMERSON IN HIS JOURNALS, selected and edited by Joel Porte, Harvard University Press, Cambridge (Massachusetts) - London (England), 1982.

* The Basilica of Santa Croce is the burial place of some of the most illustrious Italians, such as Michelangelo, Galileo, Machiavelli, Foscolo, Gentile, Rossini, and Marconi, thus it is known also as the Pantheon of the Italian Glories (see Wikipedia).
** "[W]as neither an ancient nor a modern—he was the philosopher," Alessandro Manzoni, The Bethroted, Capter 27.